Community Campaigns
Amy's Share the Road Tour 2016
In November 2016, 35 cyclists completed an 800km ride from Canberra to Melbourne to peddle the message that a metre matters.
The tour concluded with a message directly to the Victorian govenment that 9 out of 10 Victorians support the immediate introduction of a metre matters laws to make cycling safer in Victoria.
Wiggle Amy's Gran Fondo September 2016
More than 5,500 bike riders took over the Great Ocean Road in September 2016– all in the name of raising awareness about the need for 'a metre matters' laws in Victoria.
This was the sixth edition of Wiggle Amy's Gran Fondo, a unique event that provides participants with the once a year opportunity to ride on a fully closed Great Ocean Road.
City of Charles Sturt, Adelaide | May 2014
The City of Charles Sturt has utilised their roadside billboard situated on Port Road to help build awareness of the AGF's 'a metre matters'
safety campaign to remind motorists to leave sufficient space when sharing the road with bike riders.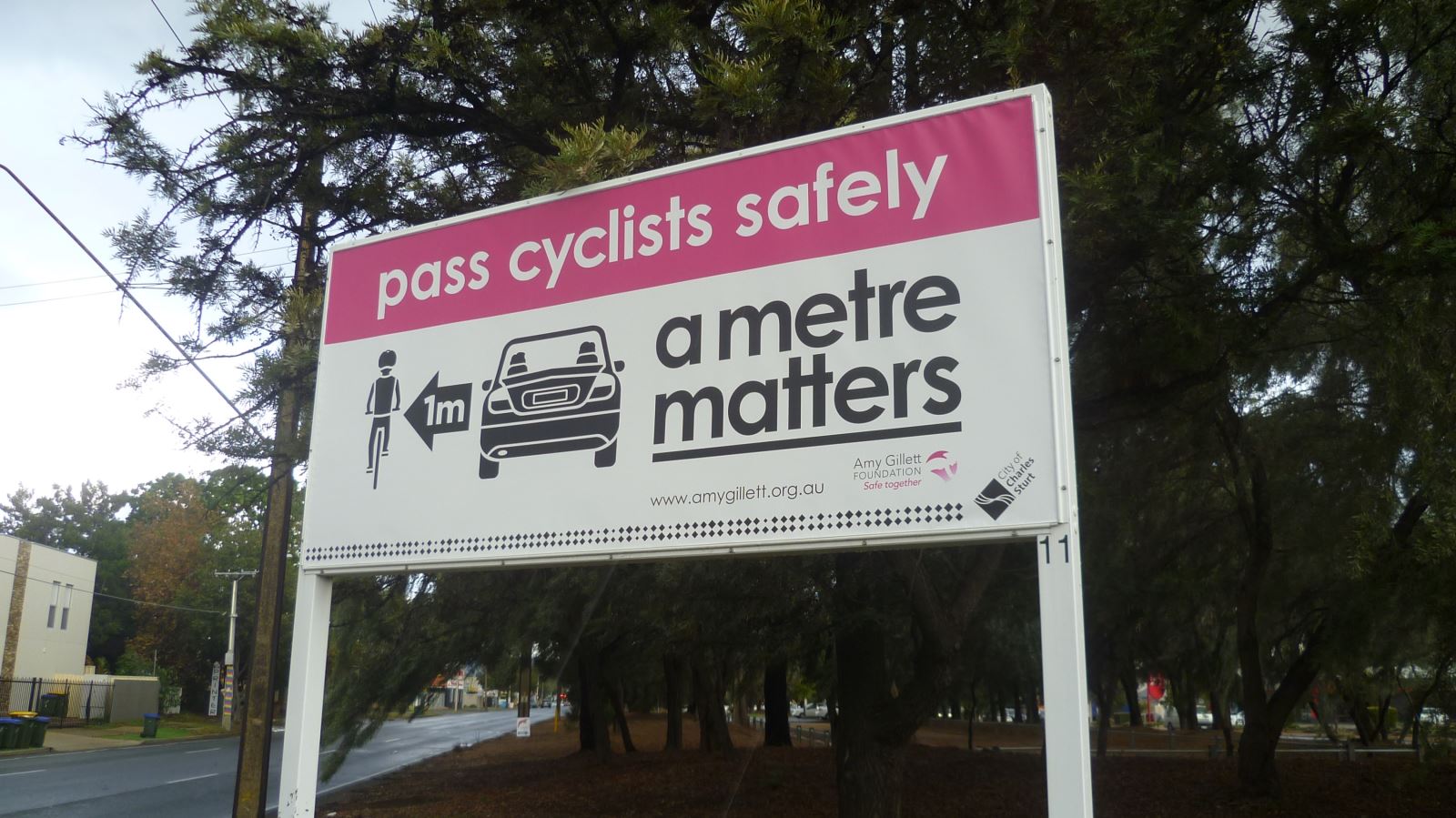 Drapac | April 2014
Drapac Professional Cycling Team takes the lead by communicating their stance of cycling safety in support of the 'a metre matters' campaign.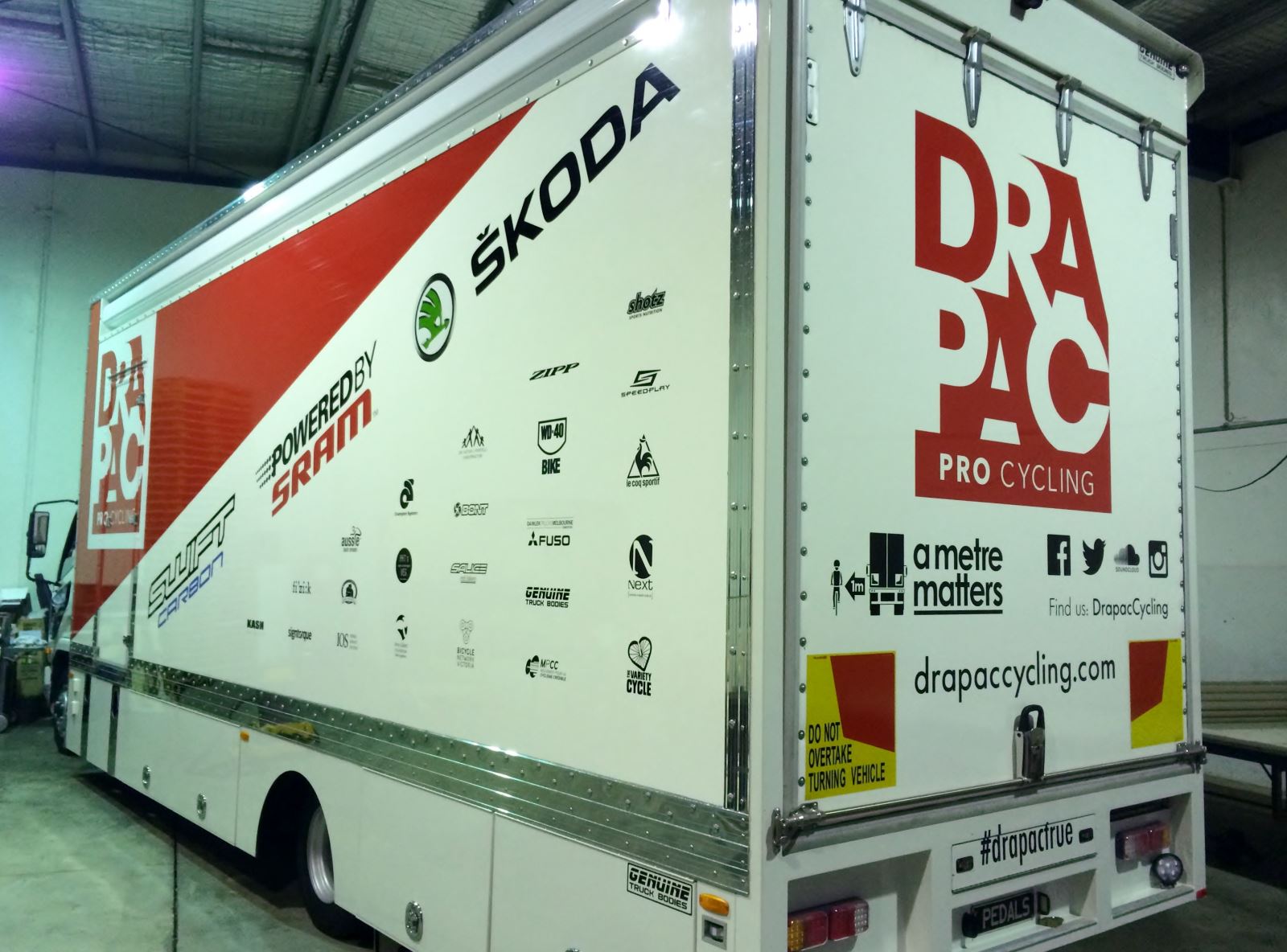 Europcar launches new a metre matters safety campaign | 2014
Europcar's terrific support of the a metre matters campaign saw promotion of new executions launched in conjunction with the 2014 Tour Down Under in Adelaide.
Europcar produced 60,000 mirror hangers for national distribution, 10,000 swing tags for the South Australian marketplace, and incorporated the AGF's fundraising partner, Shout into a creative execution by producing stands that were situated in high traffic Adelaide city and airport locations. The Shout initiative was also included in a a Europcar advertisement featuring in a national Triathlon magazine.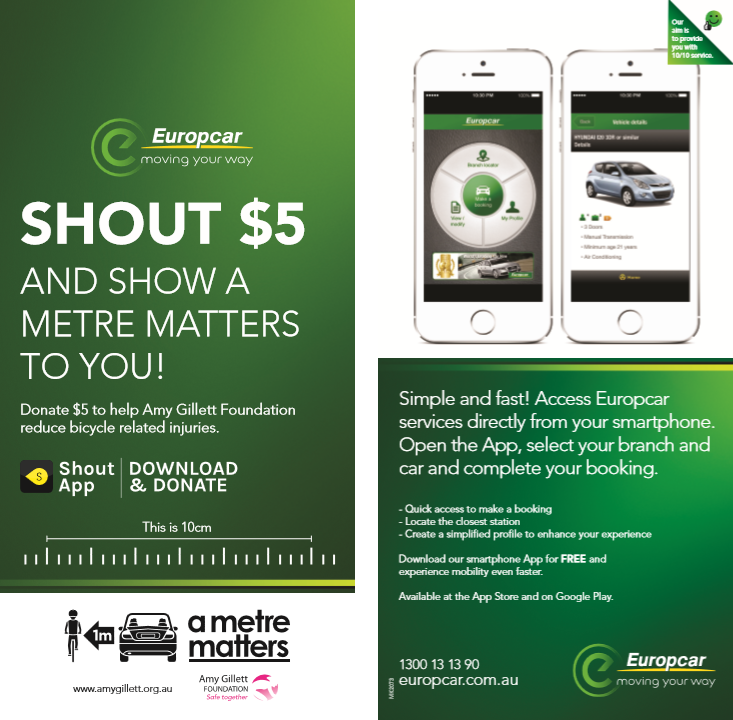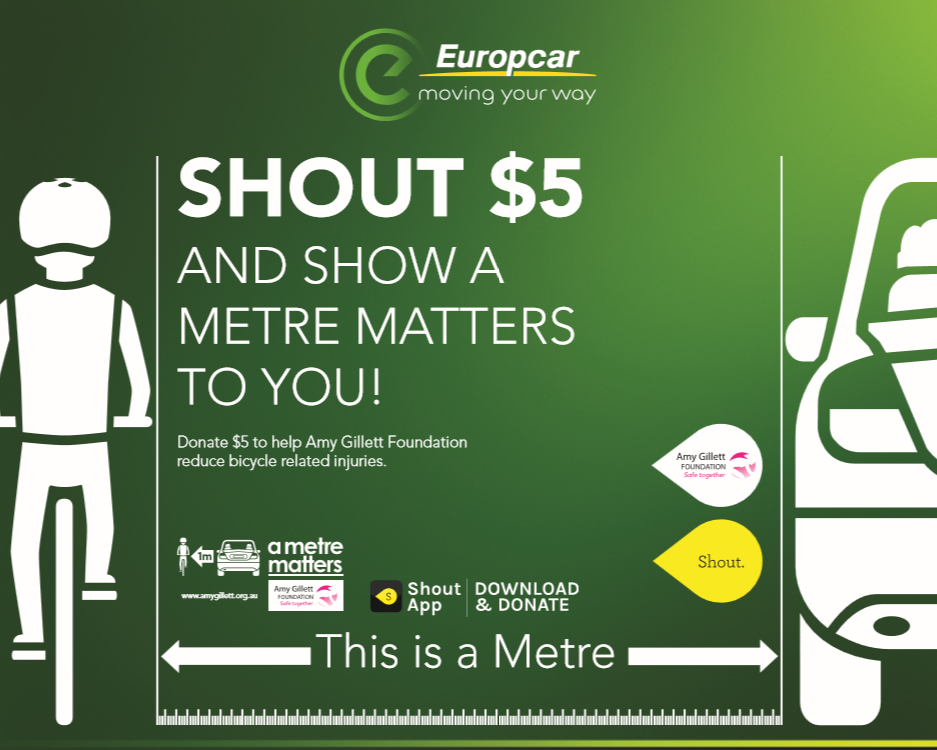 Transport for NSW | 2013-2014
Via NSW Cycle Safe Communities 14 outside roadside billboards were installed throughout NSW regional and metropolitan locations featuring the AGF's 'a metre matters' and 'stop on red' safety campaigns. The initiative encouraged motorists to allow at least a one metre gap when they overtake a bike rider, and for bike riders to help ensure their own safety by following road rules such as always stopping at red lights.
Moyne Shire, Port Fairy VIC | 2014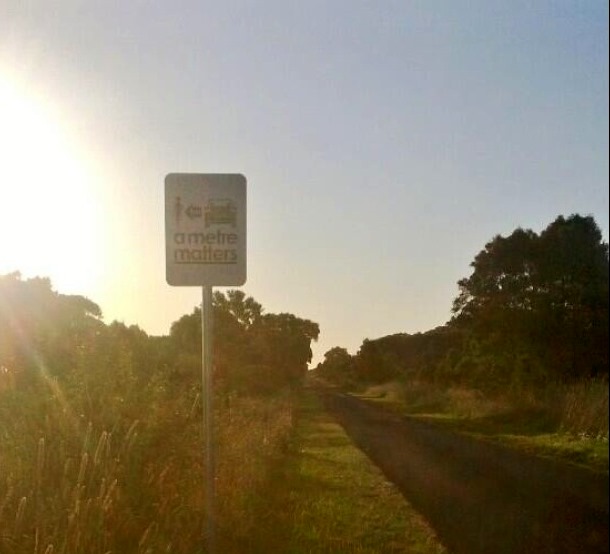 Moyne Shire and the Port Fairy Cycling Club have joined forces in support safer cycling and awareness to achieve safer interaction between drivers and bike riders on their roads.
15 a metre matters road signs have been created and installed along popular cycling routes around Port Fairy and surrounding suburbs.
RoadSafe North East and Simon Gerrans discuss road safety | December 2013
RoadSafe NE and new Ambassador, Simon Gerrans launched their '2014 Summer Road Safety' program in Mansfield. The launch, underpinned by the Amy Gillett Foundation's 'a metre matters' campaign, will help spread this key safety message across the north east region of Victoria throughout the busy summer holiday period. Simon spoke about his own personal experiences of cycling safety as well as providing tips on how to improve your own safety when on the road.
Paradise Outdoor Advertising, Cairns | October 2013
Support continues to be seen in Cairns with Paradise Outdoor Advertising installing this billboard to alongside the Bruce Highway near Fishery Falls, just south of Cairns.
Europcar swingtags and stickers | September 2013
Europcar, one of Australia's leading rental car companies and proud supporter of the Foundation, will begin rolling out swingtags and 'a metre matters' stickers across their entire fleet of vehicles.
They have also created rider bags that will used as giveaways at high profile cycling events.
NSW 'a metre matters' campaign | August 2013
Transport for NSW has charged the Foundation with implementing an awareness campaign based around the 'a metre matters' message. The initial phase of the campaign will see billboards erected across the state. For more locations, simply click the image.
2012 Share the Road Tour awareness billboards | August 2013
The Foundation continues to raise bicycle rider safety awareness via the 'a metre matters' campaign across Australia with great support from our outdoor media partner, Ooh Media, Continental Tyres and Subaru.
Large format billboards featuring the foundation's key safety message have featured in the local communities of riders who participated in the 2012 Amy's Share the Road Tour – providing much needed awareness in local communities as a direct initiative of their fundraising efforts.
Warragul Cycling Club launch 'Upright & In Sight' | July 2013
The 'Upright & In Sight' program will be aimed at improving both cyclist safety and driver awareness of bicycle riders in Victoria's West Gippsland area.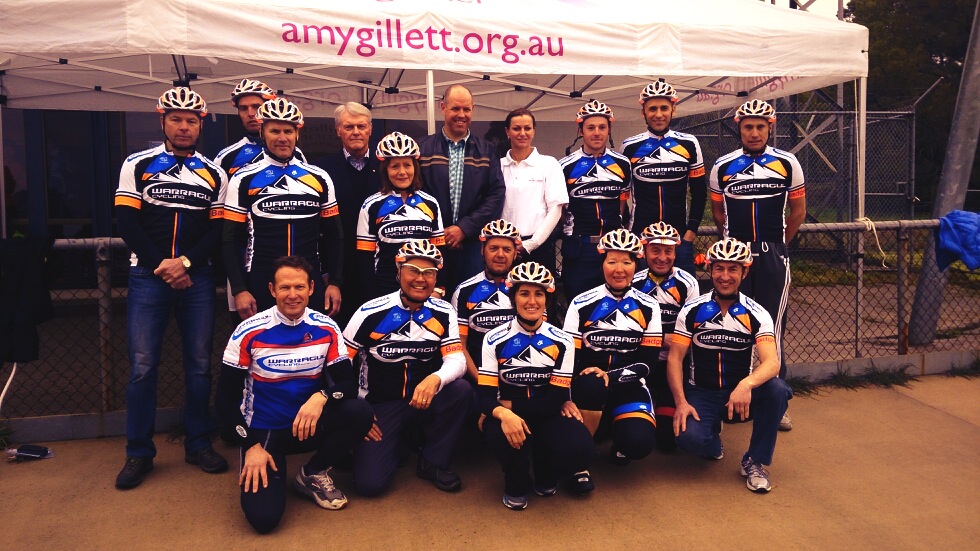 YMCA and RoadSafe North East deliver 'a metre matters' in Wangaratta | June 2013
In a joint initiative to encourage a shared respect between cyclists and motorists, the YMCA will help RoadSafe North East deliver the 'a metre matters' message during the 'Tour de Wangaratta' promotion at Wangaratta Indoor Sports & Aquatic Centre throughout July.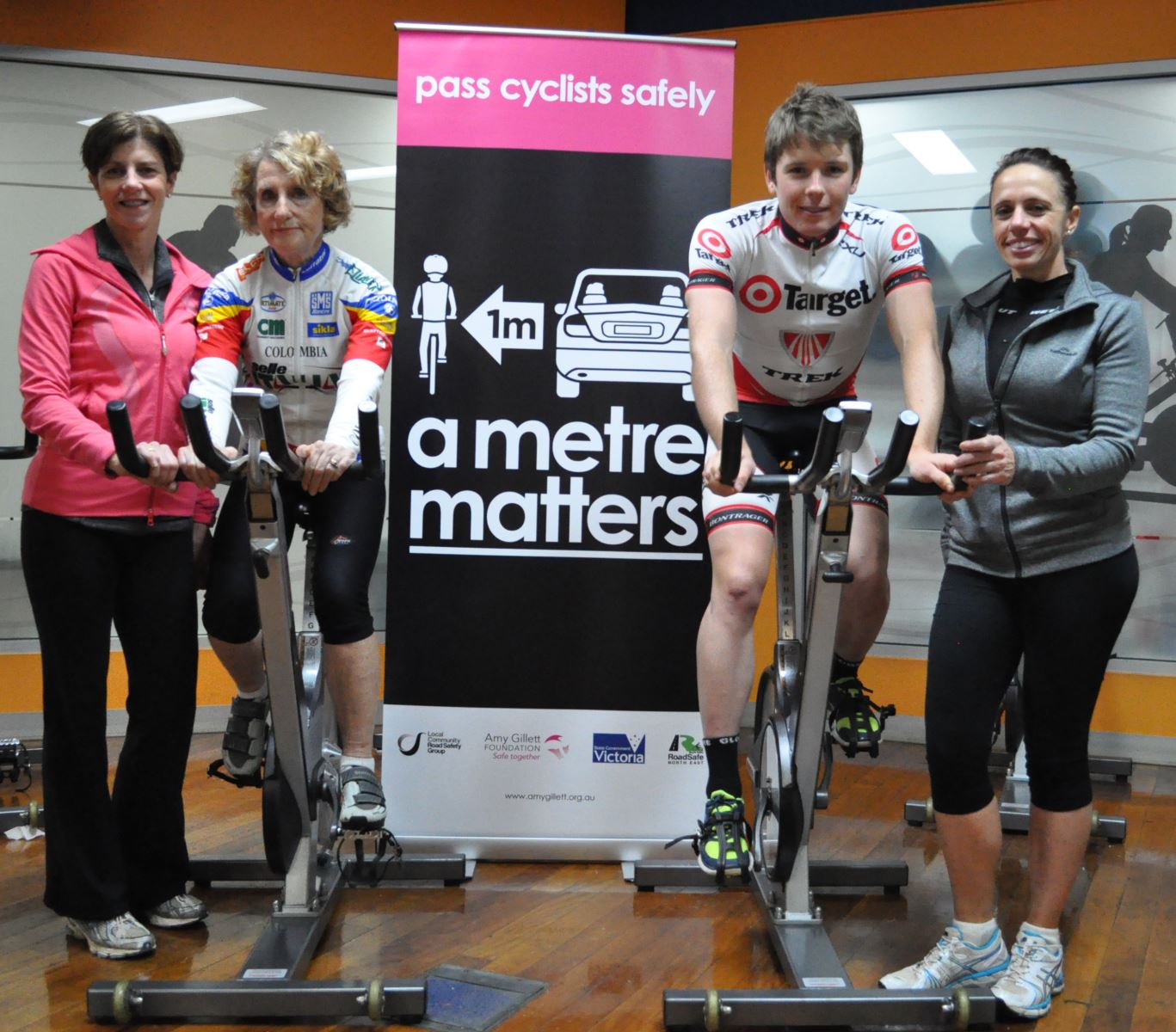 Sunshine Coast Council | July 2013
Print media advertisement to feature during the U/19 National Road Cycling Championships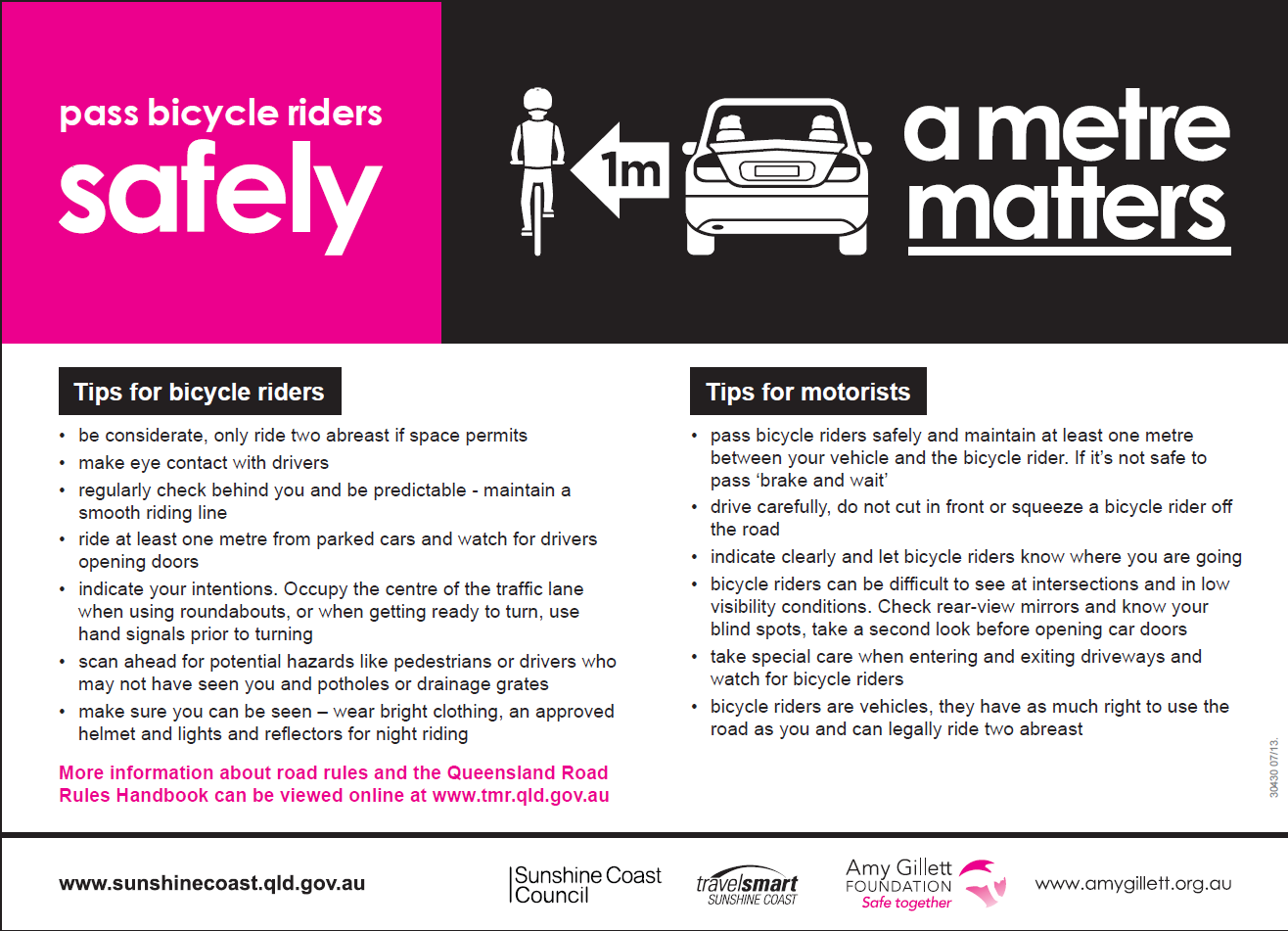 Cairns cycle safety campaign | May 2013
Brought to life by Paradise Outdoor Advertsing
, Go Transit Advertising, The Jack
AGF City Lights outdoor campaign, Sydney | April 2013
Brought to life by JC Decaux, Bicycle NSW and Bike Exchange.
Road Safe North East | Cyclist Safety Campaign 2013
'amm' logo to feature on Wangaratta coachlines Vline buses
AGF City Lights outdoor campaign, Melbourne | March 2013
Brought to life by JC Decaux and Bike Exchange.
AGF City Lights outdoor campaign, Brisbane | March 2013
Brought to life by JC Decaux and Bike Exchange.
Baw Baw Shire Council | March 2013
Utilising a range of AGF Ride Rules, Baw Baw Shire Council created a six week community awareness campaign leading up to the Baw Baw Challenge. This campaign also included the National 'Ride2School' Day.

AGF Share the Road Tour | December 2012
Amy Gillett Foundation's launch of the Share the Road Tour, utilised pull up banners and vehicle livery featuring the 'a metre matters' campaign.

Mornington Peninsula Shire | December 2012
Our first Cycle Safe Community, Mornington Peninsula Shire utilised the 'a metre matters' campaign on their trailer banner.