Transport for NSW
The Amy Gillett Foundation (AGF) and Transport for NSW have joined forces to address bicycle rider safety, following an increase in bicycle rider fatalities in NSW.
It's a two-way street is a bicycle rider safety campaign that will promote safer behaviour by drivers and bike riders in regional and metropolitan NSW communities using two prominent AGF campaigns 'a metre matters' and 'ride rules'.
It's a two-way street campaign has been activated in two phases with a third phase commencing in March, 2015.
The first, launched on 26 June 2013 by Ms Margaret Prendergast, General Manager for Road Safety, Transport for NSW, Ms Tracey Gaudry, CEO Amy Gillett Foundation and Inspector Phillip Brooks, NSW Traffic and Highway Command featured messages for both the driver, 'a metre matters' and the bike rider 'stop on red' in the format of outdoor billboards positioned in priority regional and metropolitan locations, print advertising, radio advertising and editorial content. The media release can be viewed here.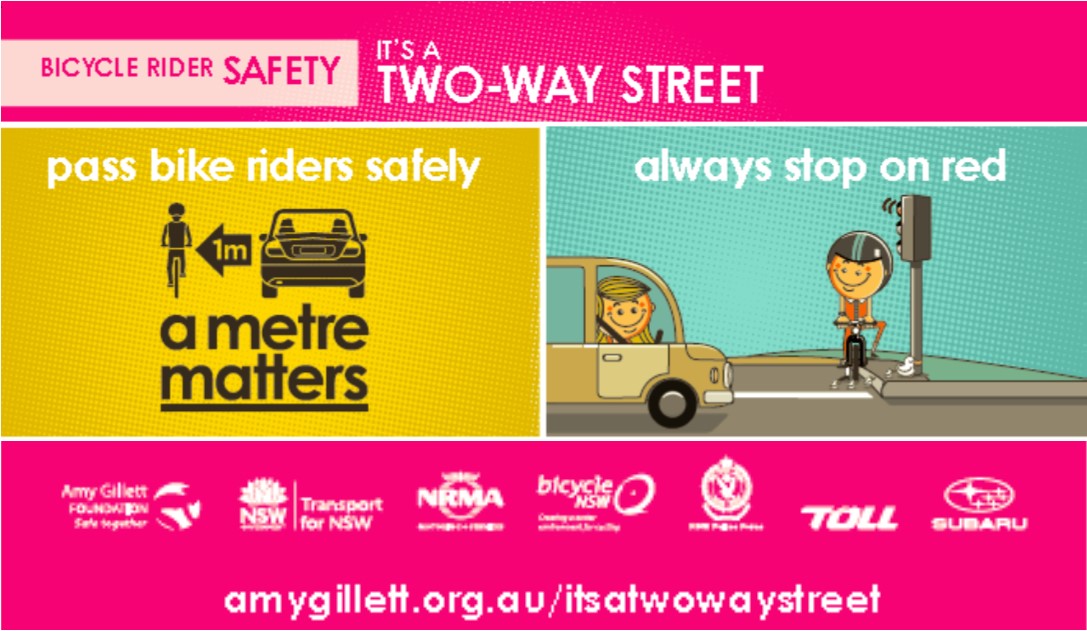 Phase two, in collaboration with major NSW transport, motoring and cycling organisations comprised the development of a series of ride and drive rules. These drive and ride rules were developed to help create awareness of important road rules and behaviours to improve the way driver and bike riders interact on the road and will provide stakeholders with resources to help deliver the message that It's a two-way street.
Launched on Friday 28 February, 2014 It's a two-way street will act as a key campaign for the Transport of NSW as they finalise the NSW Bicycle Rider Safety Strategy aimed at improving bike rider safety in NSW. The media release can be viewed here.
Phase three officially launched with Transport NSW on 27 February, 2015 introduced the new digital animation bringing the characters that portray the eight ride and eight drive rules to life. These various animation bundles will be promoted via cinema, office tower screens and a variety of other mediums from March across the state. A short feature was aired on Nine News Sydney on the 27th of February that can be viewed here.